BETTER TASTING
HEALTHIER FOODS
IN HALF THE TIME
€ Totally eliminates flare-ups.
€ Slashes carcinogenic charring by over 90%.
€ Grills both sides of foods simultaneously.
€ Perfect diamond marks with no stabbing, flipping, and turning.
€ Higher retention of succulent flavors.
€ More appetizing appearance.
€ Choice of Infrared, propane or charcoal fuels.
€ Gourmet end-results without the hassle.
€ No assembly, out-of-the-box, ready-to-grill packaging.
€ Self-cleaning hygienic mechanism.
€ Multiple advanced temperature controls.
€ Warming and utility drawers.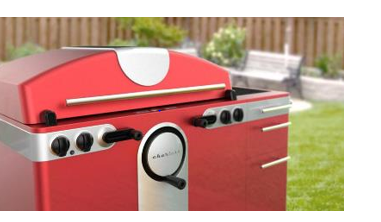 The illustration above is conceptual only and does not accurately portray all the unique proprietary features and functions included.